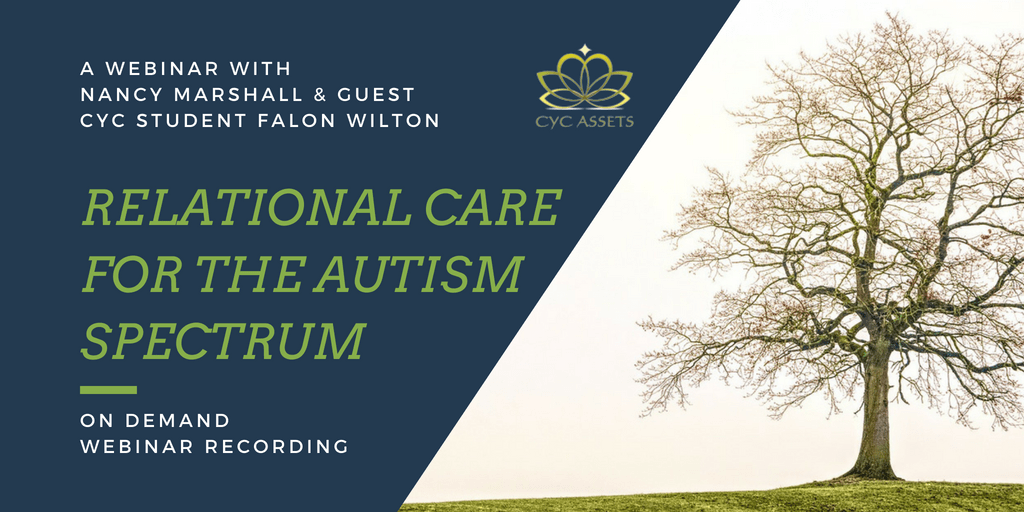 Relational Care for the Autism Spectrum
A webinar Presentation by Nancy Marshall BA CYC, MA CYC, and Guest CYC Student Falon Wilton
Learning Level: Intermediate
Domains of Practice: Cultural and Human Diversity
Price: $40.00 – Special Pricing celebrating CYC Week
On Demand Recording: We are currently preparing this webinar presentation for purchase as an On-Demand professional development opportunity.
Course Description
This webinar provides Child and Youth Care (CYC) practitioners, and others who work with people with autism, with information regarding autism advocacy movements, disability rights, and current evidence-based practices, which shape the support received by autistic young people globally. Utilizing CYC characteristics you will identify relational CYC approaches you can use in your practice to support autistic young people and their families.
The webinar is co-presented with CYC student Falon Wilton who identifies as being on the spectrum, and has a wealth of valuable lived-experience and a solid understanding of relational CYC practice.
Learning Outcomes
In this webinar, Child and Youth Care professionals and other Social Service professionals working in schools or community agencies will be able to:
Compare and contrast social and medical models of disability as they apply to the treatment of autistic young people.
Identify the key disability rights (freedom from inhumane treatment, freedom of expression, living independently & being included, education, health, employment, and participation in culture, recreation and sport) and the concept of neurodiversity as they apply to the treatment of autistic young people.
Critically analyse behavioural practices supporting autistic young people globally.
Utilizing the 25 CYC characteristics, identify relational CYC approaches that can support autistic young people and their families, including their attainment of human rights.
Who should attend?
The ideal participant will have had some experience in working with autistic young people in CYC settings OR is intending to work with this population of young people in CYC settings.
Your Presenters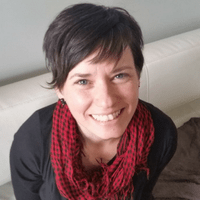 Nancy Marshall is a school and community-based Child and Youth Care Practitioner in Toronto, Ontario, Canada. She has supported diverse young people on the autism spectrum for over ten years. Nancy recently completed her Master's degree in Child and Youth Care at Ryerson University with a focus on disability rights and autism. She looks forward to attaining a Ph.D. in Education to promote research in improving Special Education and life-long outcomes for young people with disabilities.
Falon Wilton is a youth worker, educator, peer autism coach,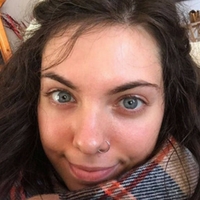 and budding herbalist. A current CYC Student, Falon identifies as being on the spectrum and has wealth of valuable lived-experience and a solid understanding of relational CYC practice.
What can you expect from a CYC Assets On-Demand Webinar?
CYC Assets webinars are designed to resemble a workshop you can expect to both view the presentation and engage and participate in activities. You will have an opportunity to ask questions of the webinar facilitator by email as you go through the pre-recorded On-Demand webinar. As part of the webinar you will be provided a list of resources including web resources, articles, books, and client resources that were discussed or referred to during the webinar. Each webinar is approximately 2 hours in length.
When you register for the On-Demand webinar, you will be sent an email with any pre-course materials your facilitator would like you to review to prepare. You will have up to seven days to view the webinar and complete the activities.
To receive a certificate of completion you will be required to complete a knowledge assessment (KAT) and pass.
When you purchase access to a webinar it is intended for your personal use only. If you are part of a group or organization requiring access for multiple staff, please contact CYC Assets for group pricing at [email protected]
CYC Assets
CYC Assets was created to fill the gap in CYC professional development and offers domain of practice based webinar topics helping you to build new skills, examine new research and methodologies, expand your knowledge in areas new to you, or to refresh your current skills. Continuing education is an ongoing process and essential to being a professional in this field. At CYC Assets we are committed to offering webinars, resources and other learning opportunities that are both cost and time effective.
Join us and be part of the collective knowledge that we can share with each other to advance our profession.
Deb Cockerton has been in the field of Child and Youth Care since 1978. She has experience in many CYC environments including institutions, school boards, hospital setting, and community agencies. Deb has a private practise and is a member of the faculty in the CYC Program at Fleming College.
Deb is a member of the Ontario Association of Child and Youth Counsellors and the Ontario Association of Consultants, Counsellors, Psychometrists and Psychotherapists.
She enjoys both promoting the field to other professionals and supporting fellow Child and Youth Counsellors.
"Our relationship building with our clients is how we help to create change; by caring enough to support them and guiding them on their journey."
Cancellation & Refund Policy
Once your payment has been processed CYC Assets does not offer a refund. Once you log into the On-Demand Webinar you must completely view the presentation withing 7 days.
STill Have Questions?
Email us at [email protected]