Report Writing in CYC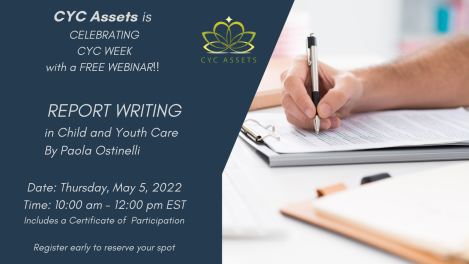 May 5, 2022: Report Writing in Child and Youth Care by Paola Ostinelli CYC, MSW
Learn about how we are to record interactions with children and youth.
Learning Outcomes:
1. Review the legal requirements of documentation and record-keeping
2. Explore professional and ethical standards related to writing
3. Compile a list of best practices to support clinical writing
4. Identify your own strengths and potential areas of improvement related to report writing
5. Examine various types of writing common to child and youth care practice
Domain of Practice: Professionalism
Level: Novice/Intermediate
Our Presenter – Paola Ostinelli CYC. BA, MSW
Working With Grieving Children, Youth, and Families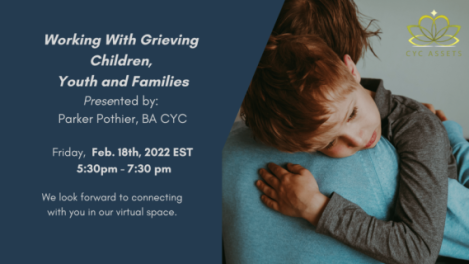 February 18, 2022: Working With Grieving Children, Youth, and Families
As CYC's, we encounter death and grief in unique ways because of the types of losses our children, youth, and families are often experiencing. How do we help them walk with their own grief, while also holding space for our own losses? In this interactive webinar, you will be invited to explore and get more comfortable with grief.
You will learn practical strategies to gain confidence in sitting with your own grief while supporting others in theirs. You will leave with resources to take forward to continue doing your own grief work, and resources to share with children, youth, and families.
Our Presenter – Parker Pothier, BA CYC